A few weeks ago we posted the Top Ten Promotional Products for Women—not wanting to seem chauvinistic we included this, "Before anyone gets the idea we're singling out the fairer sex—a  men's top ten promotional products is coming as well as a top ten promotional products for zombies, werewolves, and vampires." And you thought we were joking about the Zombies. No such thing. Vampires need them some promo love too.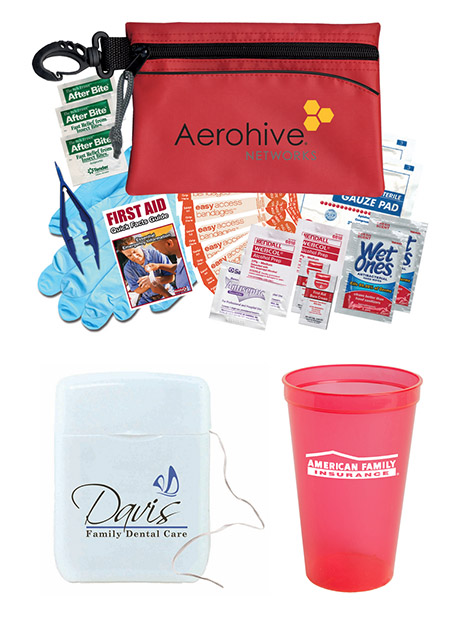 Zombies
Number one on the list—products to survive the coming Zombie Apocalypse; first up a survival kit with water, flashlight, blanket, poncho, whistle, compass, and anti-zombie spray. If Vampires are out as well may we suggest adding a clove of garlic to the kit? What to do if you become a Zombie? Don't be undead and unclean. Zombies don't have to be dirty and unwashed even if they're portrayed as such. Branded "Bath of the Dead" soap made with a hint of rosemary and "Bath Salts for the Undead" will improve any Zombie's hygiene.
Vampires
No self-respecting Vampire should be without specialty fang floss. Can you imagine the problems plaque could cause a Vampire? There are branded fangs and fingernails, capes and caps, and cups. Cups with your logo are perfect for sipping blood. Vampire T-shirts are popular with slogans like, "Friends don't let Friends Drink Friends" or "Wear this Shirt and Attract a Human." All of these specialty Vampire products can become Vamp SWAG with your name and logo included.
Werewolves
There are Werewolf books, board games, and audio books. The Werewolf in us all can listen to werewolf themed music, tack a werewolf poster to an office wall, or don furry werewolf gloves before shaking hands with a client. Boy, I'd bet they wouldn't forget that. Maybe Werewolf gloves at the office aren't such a good idea, but Werewolf promotional products have a place.
Fun products Work—No Joke
There are millions of Zombie, Vampire, and Werewolf enthusiasts who would appreciate and remember branded products suited to their passion. But this post is more about opening up and having fun with promotional products than it is about Zombies. Monsters of the night are only one example of discovering the potential of specialty products and niche audiences. Here's a question for you? What audiences live within your target and what products would they covet? If you'd like to learn more contact us. We don't bite…much.