You could argue with me, but you'd lose, and in the end you'd agree with me. Yes, Thanksgiving is about giving thanks for the blessings we have and the loved ones we share them with, but isn't the traditional Thanksgiving feast the center of our thankfulness?
It's About Sharing
There's an argument that the meaning of Thanksgiving can be found in how the pilgrims and Indians shared their bounty and friendship, but once again food was at the center.
It's About Football
Football, that's what modern day Thanksgiving in America is about! Well yes, that's part of it, but only after we've eaten and grandpa falls asleep in front of the TV during the Detroit Lions game.
It's About the Parade
It's the parade, that's it! From local parades to Macy's, Thanksgiving extravaganzas are a big part of the day, but they're secondary to the food.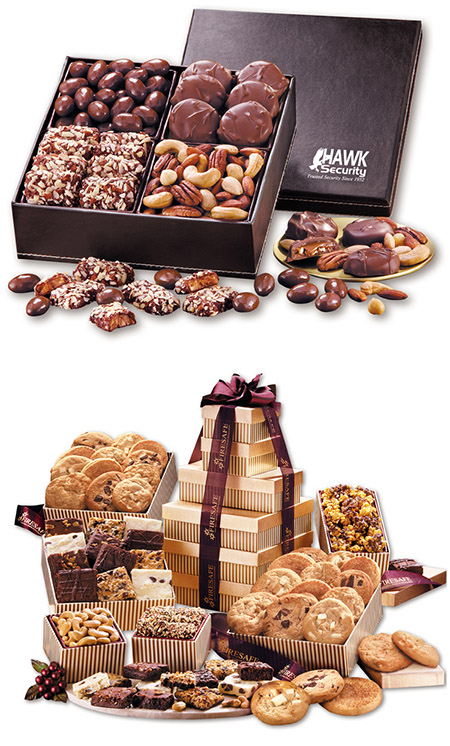 It's About Food
The food is an example of our blessings, a reminder of our heritage, and part of the tradition of giving thanks. Thanksgiving is also the beginning of the traditional holiday season. It's a time we thankfully share our bounty, a time to be thankful for all of our blessings at home and work. It's a time for businesses to recognize employees, thank customers, and share blessing with vendors. What better way to accomplish this than with food. Go to your local grocery and purchase hams or turkeys for customers, pass out gift certificates to your team, and send a vendor a thank you of food. If you need ideas TKO Marketing Solutions offers a wide assortment of promotional food products. For example, Presidents Choice Chocolates, "Smooth Chocolate Covered Almonds, mouth-watering Pecan Turtles, crunchy English Butter Toffee and fresh-roasted Deluxe Mixed Nuts." It sounds just right for your favorite customer. You could send Toffee and Turtles in a gold gift box to vendors. A spiral sliced ham on a bamboo cutting board or a Wisconsin cheese platter would be appreciated by employees, and who wouldn't enjoy the ultimate cookie and brownie tower?
It's more than the Food it's what the food Stands for
Thanksgiving is about football and floats. It's about Indians and pilgrims. But most of all it's about being thankful and sharing our love. I don't know about you but in my family food is love. Go share some love. Have a Happy Thanksgiving!