Before anyone gets the idea we're singling out the fairer sex—a  men's top ten promotional products post is coming, as well as a top ten promotional products for zombies, werewolves, and vampires. Although some of the products listed here appeal to most humans, regardless of sex, these ten have been vetted through stringent scientific methods—I asked my wife and a couple of co-workers.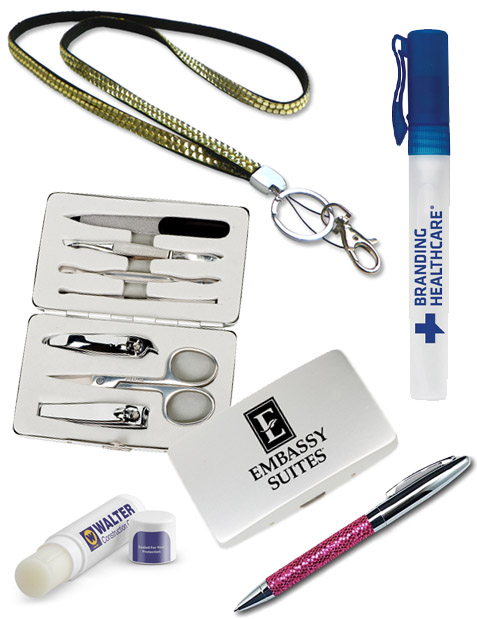 Key chains
– Keychains can have a lot of functional tools built into them including whistles, lights, and a miniature Swiss Army knife that's perfect for mothers. It's always good to be diligent, prepared, and safe no matter where a person is or what she's doing.
Pocket spray sanitizer – Many people of either sex would appreciate this, but let's face it, overall men aren't as sanitary as women. I know our VP of marketing would like one or two of these in her purse.
Sequin lanyard – Tired of the same ole same ole? Want to look a little more…feminine at the next convention?
Manicure set – A branded crystal emory board could come in "handy" couldn't it?
Sparkle pens – There just isn't enough sparkle in the world is there?
Stand up pocket mirror –Don't you wish you had one right now?
Lip balm – Personalized lip balm is in high demand—especially in winter.
Totes and bags – They come in all sizes and shapes to fit the needs of every woman.
Transparent toiletry bag – A clear zippered case perfect for traveling by train, plane, or automobile.
And the number One is…drum roll, please…
Stuff made just for women. Blouses, hats, and purses can all be screen printed or embroidered with your company logo. Makeup bags and organizers will be seen every day by your female customers as they get ready in the morning.  If you'd like to talk about promotional products for women let us know, we love girl-talk.
Bonus Promotional Products from my scientific survey—jar openers, all types of notepads and pens, lotions, and phone stands.