It's close to the holidays, and you're at your wit's end as to what to give your top customer. Your client has been with you through thick and thin, and they account for a significant percentage of your business. And, you like them. Last month when you went to dinner, your client even picked and paid for the wine. Wait, wine, that's it! You can give them a gift that will enhance their wine experience not some canister of peanuts like you gave them (and everyone else on your list) last Christmas, but a classy gift that shows how much you appreciate their patronage and friendship. Wine, the perfect holiday gift for your special customer. Would you like a few ideas?
Aerato Decanter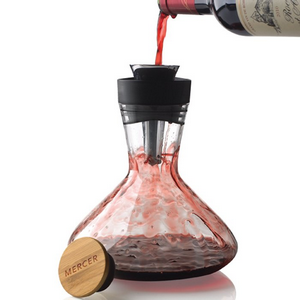 "Pour your wine through the inner bowl of the aerator, cork and sediment will be removed. After flowing down the sides of the decanter, the wine spreads out and rests at the wide base. Aerating yet a second time to reach its maximum flavor and aroma. Wine streams through 6 breathing holes and aerates. Crafted out of handmade glass with a Stainless-Steel pourer and Bamboo Lid.  7.75″ D x 7.75″ W x 9″ H."
Sonoma Wine Set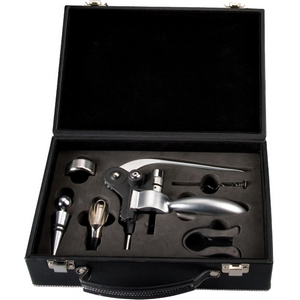 "Spare helix coil Packaged in simulated leather case with White accent stitching Stopper, pourer and collar 6-piece set includes: Wine opener and foil cutter.  3.5″ D x 11.5″ W x 7.75″ H"
Gloria Ferrer Brut & Gloria Ferrer Blanc De Noir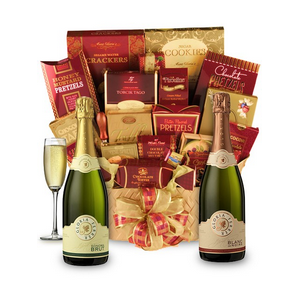 "Two bottles paired with a variety of snacks. Champagne, Gourmet Snack Gift, Cracker, Cheese Spread, Cookie, Chocolate, Assorted Pretzel, Assorted Wafer, Cocoa, Biscotti, Taffy, Fruit Jelly, Cheese Knife, Wine Coaster."
Rodney Strong Double Wine Gift Basket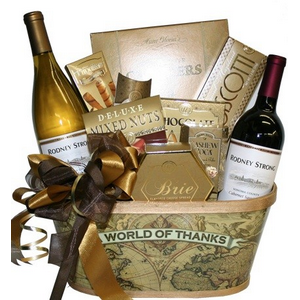 "Rodney Strong Double Wine Gift Basket. Send a World of Thanks with this double wine gift basket. Everyone deserves wine, and this double wine gift basket packaged with a bottle of Rodney Strong Cabernet Sauvignon and a bottle of Rodney Strong Chardonnay packaged in this oval splitwood World of Thanks gift basket with traditional crackers, Brie cheese spread, deluxe mixed nuts, biscotti cookie, wafer rolls, candy mix and chocolate taffy is the perfect way to send it. Let someone enjoy these amazing treats that accompany wine." — TKO Marketing Solutions Wine.  
Wine, the Perfect Holiday Gift
There are scores more wine accessories to choose from, and our team of experts at TKO Marketing Solutions would be more than happy to help you find exceptional presents for your special customers,  if we can help, Contact Us. Why not give your best client wine, the perfect holiday gift?
Photo Credit: Unsplash Photos Kelsey Knight